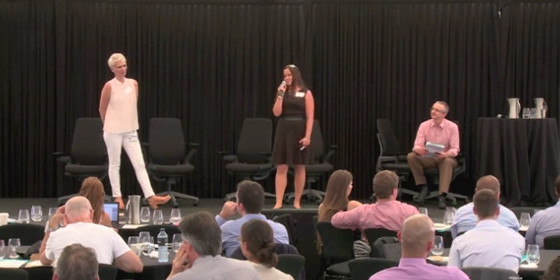 Calder Consultants Senior Strategist, Andrea Egert, and Atlassian's Gina Creegan, Senior Programme Manager, Workplace Experience, came together on stage at the WORKTECH16 event in Sydney on Tuesday 23 February 2016 to co-present their session 'Unleashing the Potential in Every Team'.
Andrea and Gina's presentation, based upon Atlassian's mission, outlined for attendees the value that Atlassian places on teams and how it is redefining business collaboration for its customers as well as its own teams.  Andrea and Gina also focused on the importance of culture, agile processes and flow, whilst demonstrating to WORKTECH attendeees how Atlassian's workspace is evolving and enabling teams to build great software in a truly dynamic environment.
A video of Andrea and Gina's presentation can be viewed here – running time 15 mins.
Click here to learn more about Atlassian.
Comments are closed.